The Race Across America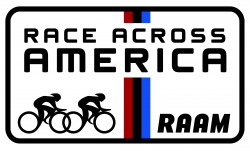 Rated the 'World's Toughest Race' by Outside magazine, this grueling 3000 mile transcontinental journey from Oceanside California to Annapolis Maryland, through the heartland of America pushes athletes to their mental and physical limits. Riders traverse 12 states, endure combined climbs totaling nearly 170,000 feet - nearly 6 times the altitude of Mt Everest - and punishing weather conditions that include 120 degree heat in the Sonoran desert, below freezing temperatures in the Rocky and Appalachian Mountains, hail storms on the plains, and headwinds that can reach 50 mph, all for the honor of being added to the prestigious roll of RAAM finishers. Along the way, solo and team riders and their support crews battle other racers, the elements, and emotions as they compete for victory in this epic event.

Three veteran endurance athletes, Steve Teal, Gary Baierl, and Jim Ryan, along with up and coming road racer James Yang, will tackle the 2011 edition of the Race Across America, entered in the 4 person team division. Each racer shares a common passion for cycling, endurance sport, and the humbling sense of reward achieved through preparation, team work, and committed focus to far reaching goals like RAAM.